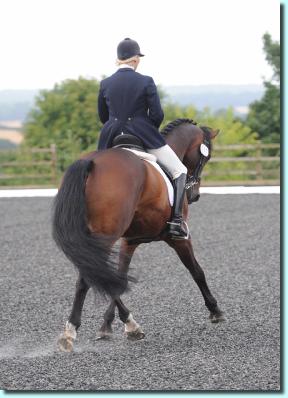 In more recent years Sarah has received coaching from Carl Hester and former Dutch and British team trainer Conrad Schumacher. He afforded her a great compliment by stating that in his opinion she rides at International Team standard.
Kate Hamilton awarded Sarah the ride of her young Friesian stallion "Herbie"and Conrad, who has extensive experience of Friesians both in Europe and in the USA, considers him to be one of the best examples in the world today.
Sarah has been invited to officially train for the British Under 21's Training Scheme and specialises in under 25's training. Before the outbreak of Foot and Mouth in 2001, she headed the entire British Dressage under 21's training in the South West. She was a member of the Under 21's Training Committee and 5 of her pupils have represented Great Britain from Ponies to Young Riders.
In 2002, Sarah secured a sponsorship deal with Provender International and is now successfully competing the twelve year old Holstein gelding Provender Galant for them. Winner of the W.W.E.C. Novice Championships in 2002, and a Novice Winter Championship finalist earlier that year, he took 4th place in the Winter Novice Music Championships. He was 6th in a hotly contested open Elementary Regional Final, narrowly missing qualification for the Nationals. In 2005, having missed a year due to injury, he gained 3rd place in the Winter Elementary Music Championships. In 2006, he qualified for the Winter National Championships at Medium level but due to rider injury was unable to compete. At the end of 2006, he won his first advanced class and is currently competing at F.E.I. Intermediare II and Grand Prix. He placed 10th in the National Winter Championships PSG Freestyle 2009 and twice placed 3rd in major Premier Leagues last year.
Sarah is based at a private yard in Wiltshire, which has excellent facilities.
As a judge, Sarah was upgraded by British Dressage in July 2008 to List 4.
Sarah was invited by Equifeast, the makers of Winning Edge Gold, to join their Elite Riders' Programme, in order to promote and further develop its application in top sport horses. Prior to this invitation, Sarah had been using and recommending Winning Edge Gold quite independently for over a year.
She was also, by invitation, the resident trainer and a regular contributor to Just Dressage Magazine, a highly focussed publication for dressage riders in the UK.